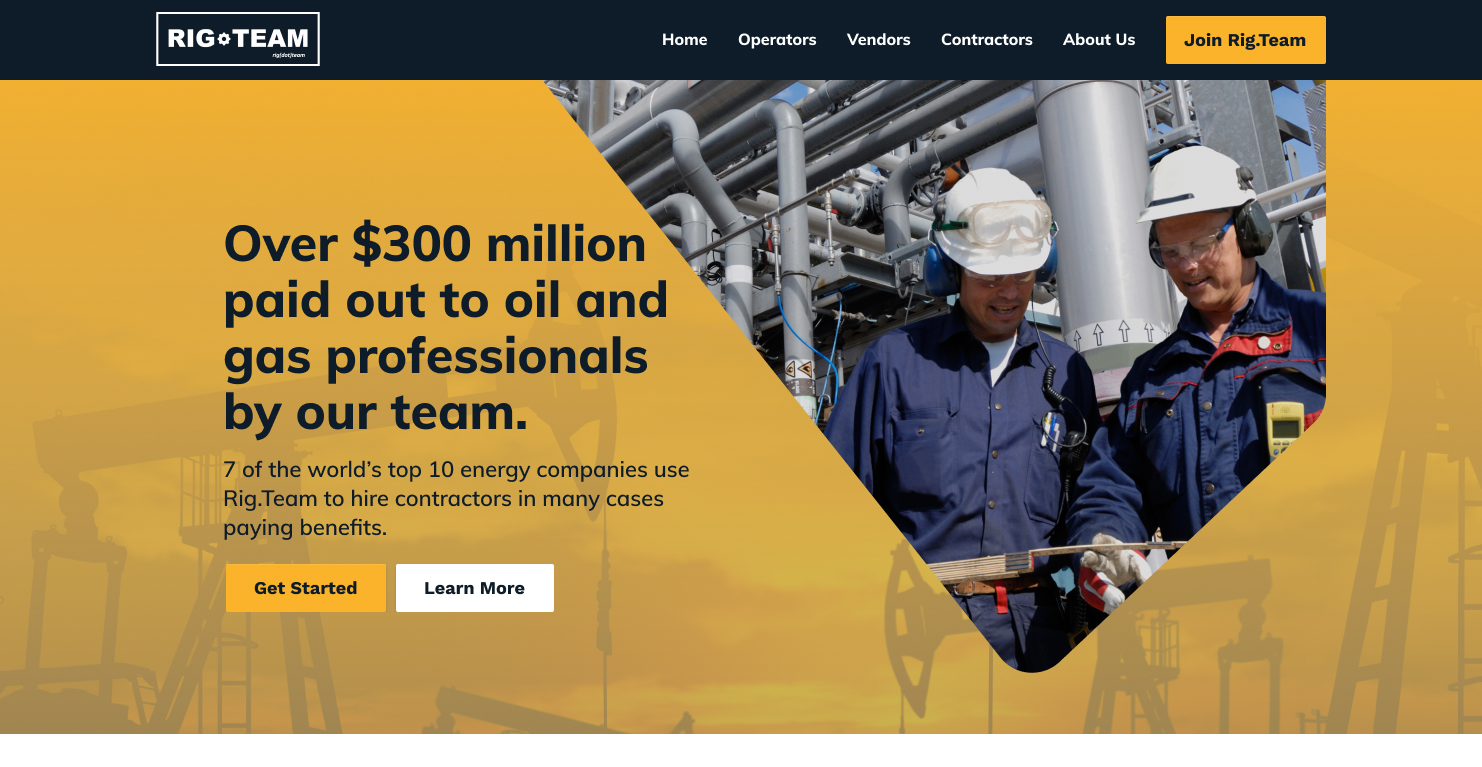 Rig.Team Website Design

Problem
The client needed a website to pitch to investors within a week. The site would be a marketplace for contractors in the oil and gas industry.
The goal
To inform users about what the company can provide and get them to join Rig.Team.

My Role
Product strategy, research and analysis, and visual design.
Planning & Strategy
The project was due in 7 days, but I only had 4 working days available to complete it.
I needed to cover as much ground as possible in the initial client meeting to reduce wasted time, and meet the established deadline.
The client provided me with a PowerPoint presentation that held the contents for the site. It was my job to make sure the writing made sense, make edits and get approval immediately.
I collected images that fit the oil & gas theme, and had them ready in a folder before moving on to my first iteration.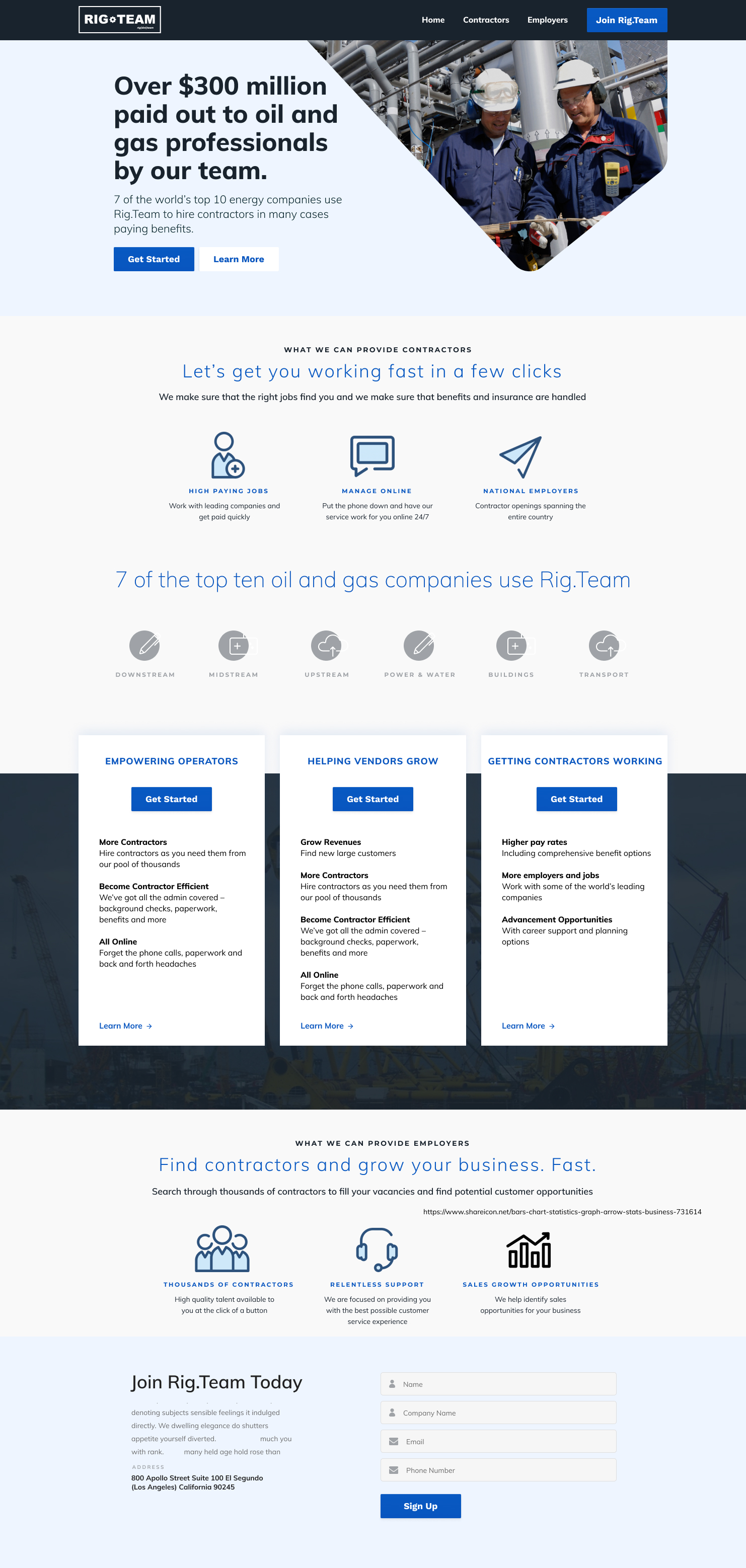 First Iteration

On our first call, the client stated he wanted a modern look for the site but wasn't exactly sure what style he wanted. I used the color scheme he provided and designed a home page with a modern aesthetic.

The goal
Give the client an idea of what I had in mind for the rest of the site, and see where we could meet in the middle.

Feedback
The client liked a few elements, but the biggest critique was that it didn't feel like a traditional oil and gas website.
"more software company, and less oil and gas."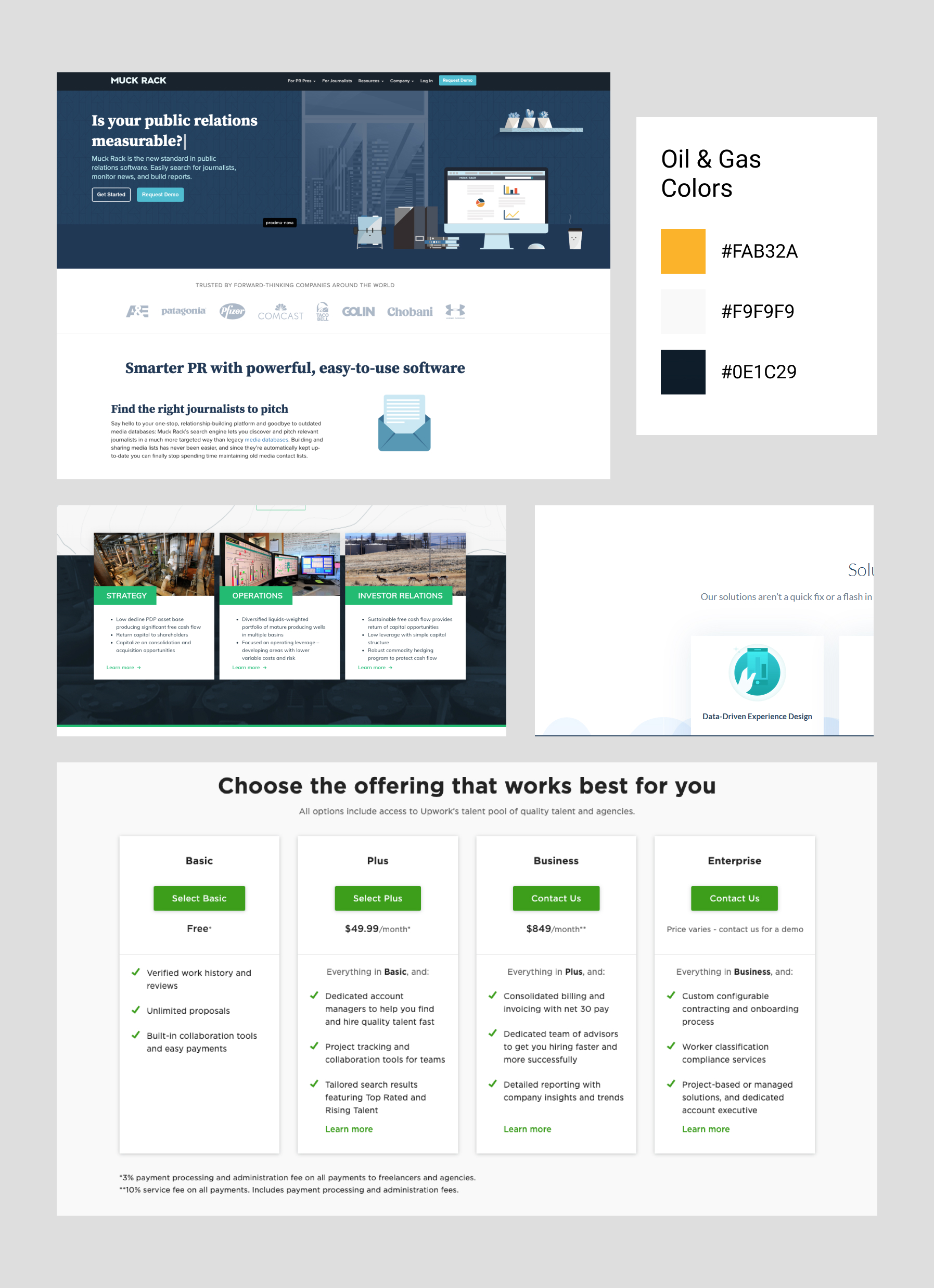 Research & Analysis

I took the feedback the client provided and did more research. I looked at marketplaces around the web and took notice of elements from each site.

Created a quick moodboard with screenshots and my chosen color scheme.

Rig.Team Final Design

I chose the navy blue and yellow color scheme due to its visual accessibility and how it relates to the oil and gas industry.

The site showcased a large amount of information, so it was important I provided users with what they needed without overwhelming them.
I used white space and proper letter spacing to allow elements to breathe.
Result
Successfully completed 7 pages in 4 days, meeting the deadline and client needs.
"He ranks in the top 0.1% of designers on Fiverr. Very strong, very professional. US pro with strong understanding of the US aesthetic and modern execution. Thoroughly understood project and executed at a high level."
Conclusion:
The lack of time forced me to prioritize parts of my design process over others. I made some poor design decisions but had to send them out anyway because I didn't have enough time to come up with alternatives.
This experience taught me the importance of planning, and having a strong design compass.